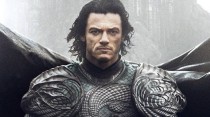 Ahead if its release in cinemas next month a forty-second clip of Dracula Untold has been released to help promote the opening weekend. The film is a re-imagining of the origin story of The Count and how the a man who was so desperate to protect all he loved that he chose to become a monster. The clip features Luke Evans as Vlad Tepes conversing with the rather sinister figure of Caligula (Charles Dance), who has something of the night about him. The clip gives an insight into the motivations of Vlad and how he will affect his transformation.
This is shaping up to be one of those divisive films. I suspect you will either love it, going along for the ride or end up hating it for being totally ridiculous. The recently released trailer certainly looks the part but we have been down that road before only to be disappointed by the end result.
Dracula Untold is released on the UK on the 3rd of October and in the US on the  19th of October.
Latest posts by
John McArthur
(see all)