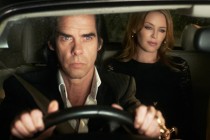 This week sees the release of the Nick Cave documentary 20,000 Days On Earth. As is typical with the man this is no ordinary rockumentary. It is a journey through the mind of an artist who is at the peak of his powers. It is directed by Iain Forsyth and Jane Pollard with Cave and Forsyth handling the writing duties. Being a fan of his work for a long time I have looked forward to this since I read about the premiere of the film at this year's Sundance film festival.
Nick Cave has been performing and creating since the nineteen eighties where he came to notice as the lead singer of the Australian noisemakers, The Birthday Party. From the middle of the decade until now he has forged a critical (and sometimes commercial) career as the leader and creative force of The Bad Seeds, member of offshoot band Griderman, and a sideline in screenwriting, acting and a couple of superbly deranged novels.
20,000 Days On Earth chronicles the life and inspirations of the man with concert footage, monologues and scripted sequences. It features appearances from Ray Winstone, Warren Ellis and Kyle Minogue.
20,000 Days On Earth is released in cinemas on the 19th of September.
Latest posts by John McArthur
(see all)