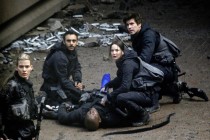 Just out is the first full trailer for the new Hunger Games film. As was extensively reported the final book of the series is being split into two films for reasons that can be best described as monetary. Just how they will manage to spin out the book into two full length movies will be seen shortly.
The third installment sees Katniss (Jennifer Lawrence) faced with a dilemma. Peeta (Josh Hutcherson) is alive but is being used by the state a symbol for propaganda. She must try to free him and threatens to give up her position of Mockinjay if her district does not  attempt a rescue mission. Supporting the main stars are Woody Harrelson, Liam Hemsworth, Julianne Moore, Stanley Tucci, Donald Sutherland, Elizabeth Banks and the late Philip Seymour Hoffman.
The Hunger Games: Mockingjay- Part 1 is released in the UK and the US on the 21st of November.
Latest posts by John McArthur
(see all)