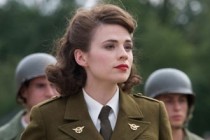 For the premiere of the second season of Agents of SHIELD the fans were treated to a two-minute sequence which flashed back to 1945. It features Agent Carter and The Howling Commandos as they take out a Hydra base. Peggy Carter will get her own television series and will feature Hayley Atwell in the role she memorably portrayed in Captain America: The First Avenger. 
The clip acts as a nice teaser for the forthcoming show and it's good to see both Atwell and Neal McDonough returning to the action. Also rumored to appear is Dominic Cooper as Howard Stark . Given the high standards that Marvel have set in both their movie and television output it is pretty certain that the show will be a major success.
Agent Carter is currently in production and is scheduled to air in the USA in January 2015.
Editor-in-Chief at Moviescramble. A Fan of all things cinematic with a love of Film Noir, Sci-Fi and Julia Roberts in Notting Hill. He hopes to grow up some day.
Latest posts by John McArthur (see all)