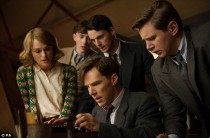 Opening the London film festival is the movie based on the true story behind the breaking of the Enigma code. During the second world war, the German forces used a code for all transmissions that was deemed unbreakable. Some of the best and brightest minds in Britain were put together at Bletchley Park. Leading these efforts was Alan Turing a man who as well as battling against time to break the code had to battle the authorities who viewed him as a loose cannon and a potential spy.
Benedict Cumberbatch stars as Turing, with a performance that will reinforce his standing as an actor of some note. He is backed by quite an array of talent in the form of Charles Dance, Matthew Goode, Keira Knightley and the ever dependable Mark Strong. Expect the film to feature heavily when award season rolls around.
The Imitation Game will receive a general release on the 14th of November in the UK and the 21st of November in the US.
Latest posts by
John McArthur
(see all)