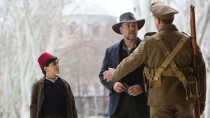 For his directorial feature debut, Russell Crowe goes back to a significant time in Australian history.  The film is set four years after the bloody battle of Gallipoli during the first world war. Crowe stars as Connor, an Australian farmer who travels to Istanbul in order to find out what happened to his three sons who were reported as missing in action. While there he becomes involved with a Turkish woman (Olga Kurylenko).
The Water Diviner is scheduled for release on Boxing Day in Australia and on the third of April 2015 in the UK.
Editor-in-Chief at Moviescramble. A Fan of all things cinematic with a love of Film Noir, Sci-Fi and Julia Roberts in Notting Hill. He hopes to grow up some day.
Latest posts by John McArthur (see all)