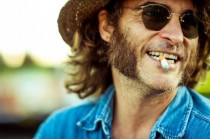 Just out is the first trailer for the new Paul Thomas Anderson film, Inherent Vice. The film stars Joaquin Phoenix as Doc Sportello, a drugged up detective tasked with finding his former girlfriend among other things. The movie marks the second collaboration between actor and director after the critically acclaimed 2012 film The Master. The story comes from the novel of the same name by author Thomas Pynchon.
The trailer gives the indication that the film has a more overtly comedic slant than some of the directors previous projects. Whether this is in fact the case or is simply the way the trailer has been put together remains to be seen. Alongside Phoenix is a star-studded cast including Josh Brolin, Reese Witherspoon, Benicio Del Toro and Owen Wilson.
Inherent Vice is released on the 9th of January 2015 in the US and the 30th of January 2015 in the UK.
Editor-in-Chief at Moviescramble. A Fan of all things cinematic with a love of Film Noir, Sci-Fi and Julia Roberts in Notting Hill. He hopes to grow up some day.
Latest posts by John McArthur (see all)