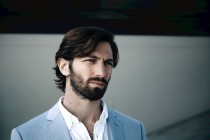 With his reputation for glamour and glitz in his films it isn't a surprise that Baz Luhrmann has directed another extended advert for Chanel No.5. He follows up the memorable Nicole Kidman advert for the same product over a decade ago. This time it features the worlds top fashion model, Gisele Bündchen as the on/off object of desire of Michiel Huisman (of Game of Thrones). It's all moody looks and bewildering story as you would expect from a perfume ad.
The advert features some of Luhrmann's trade marks. With the use of a beloved song, this time You're the one that I want, in a radically altered cover version he is following on from similar instances in his film back catalogue. The use of bold colour changes and mood lighting and dramatic set pieces are all here.
The advert is perfect for fans of his film making who can't be bothered sitting through two and half hours of a movie.
Latest posts by
John McArthur
(see all)