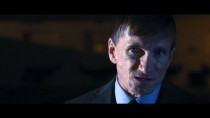 The greatest compliment you can give a short film is that it left you wanting more. Short films look to take the essence of a single idea and progress this to a conclusion in a limited running time. The Curse from film maker Gabriel Sabloff is one such beast. A woman is dropped off by a taxi in the wrong side of town. The streets are quiet and menace appears at every corner. It is nt long before she comes to the attention of local hoods and seems destined to become another sorry addition to the crime figures. All is not what it seems as the woman stops displaying fear and starts to look at the men with what is best described as hunger. Why has she put herself in this situation and who is the mysterious man who is searching for her. It will not end well.
This is rather a special short film. It is shot and edited with some style. There are a number of effects that set the scene almost immediately. Jump shots, shaking cameras and blurring within the frame all lend to the ominous feeling. The lighting is suitably dark and the use of shadows helps the mood in the same way as the best of film noir. The pay off after the creepy build up comes quickly and viciously. The action is classic horror. It is not for the squeamish.
A large part of the mood is delivered by excellent performances from the female lead Ciddy Fonteboa and her co-star Bill Oberst Jr. They both make use of minimalist acting techniques which seem unnatural and unusual. This has the effect of marking them out as something quite different to everyone else around them. By taking this choice in style allows the supporting cast to go large in their interpretation of their characters.
Once again we are presented with a short film that in only ten minutes provides more ideas and entertainment value than full length movies. Recommended.
Latest posts by
John McArthur
(see all)