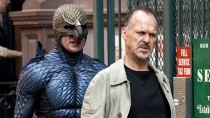 One of the more interesting early contenders in the forthcoming award season is the new film from Alejandro Gonalez Inarritu, Birdman. Michael Keaton stars as Riggan, an aging actor, best known for his portrayal of an iconic superhero. He is trying to set up a comeback in a one man show and has to overcome family issues and his own toxic personality in order to succeed.
Keaton is still one of the best actors out there and it is good to see him in the lead role once more after excellent supporting turns in RoboCop and the best thing about the Need for Speed movie. Providing support is the ever great Emma Stone, Edward Norton, Naomi Watts, Zach Galifianakis and Andrea Riseborough.
Birdman is still touring the film festivals and will be released in the UK on the 2nd of January 2015.
Latest posts by
John McArthur
(see all)