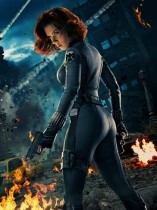 The first trailer for the forthcoming Avengers sequel, Age of Ultron has appeared online over a week early. It was due to premiere during next weeks Marvel Agents of SHIELD episode but a low quality version was leaked prompting Marvel to release the official HD version.In attendance are the core team from the first film alongside a couple of newcomers, Scarlet Witch (Elizabeth Olsen) and Quicksilver (Aaron Taylor-Johnson). We get our first real look at Ultron as voiced by James Spader and the new, rather large, Iron Man armour. Joss Whedon makes a very welcome return as writer and director which can only enhance the reputation of the franchise.
Age of Ulton will mark the end of phase two of the Marvel Cinematic universe but there is still plenty of life left in it. There is a raft of films scheduled over the forthcoming years including the much-anticipated and long delayed Ant Man movie and the recently announce third Captain America film.
Avengers: Age of Ultron is released on the 24th of April 2015 in the UK.
Editor-in-Chief at Moviescramble. A Fan of all things cinematic with a love of Film Noir, Sci-Fi and Julia Roberts in Notting Hill. He hopes to grow up some day.
Latest posts by John McArthur (see all)