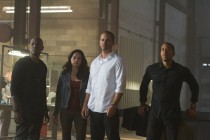 After a lengthy delay due to the untimely death of Paul Walker, the first trailer for the new Fast & Furious film, Furious 7 is now online and it's pretty damn spectacular. It must be difficult for the film makers to come up with car stunts that are bigger and bolder than the previous movies. They have certainly done it with this film!
The film follows on directly from the dramatic events of the sixth installment of the franchise with Jason Statham starring as Ian Shaw intent on revenge for the death of his brother. The extended team has to work together to overcome the all too real threat to their lives. Also joining the cast is the ever reliable Kurt Russell and martial arts star Tony Jaa.
James Wan is in place as director taking over from Justin Lin, the man credited with turning the franchise into the multi racial phenomenon it is today.
Furious 7 is released on the 3rd of April 2015.
Latest posts by
John McArthur
(see all)