I've seen many people claim that 2014 was a poor year for movies. Before I started this list I was inclined to agree. As I wrote up my shortlist however, I found myself making sacrifices in order to keep it at ten. In the end there are films such as Cavalry, Gone Girl and Guardians of the Galaxy missing from a list that I thought they would walk into. In the end I'm happy with my choices, let me know your own thoughts in the comments below.

10. Locke
I'm not a fan of gimmicky films and if it wasn't for Tom Hardy in the starring role, I would have likely giving Locke a miss. It's a difficult story to discuss without giving away spoilers, but basically the film finds Ivan Locke (hardy) driving along with nothing but the phone and his own conscience for company. The plot slowly unravels with each phone call as more of Locke's character is revealed. Set entirely within the confines of a car, director Steven Knight manages to create an impressive and captivating thriller, surprisingly free of pretension.
9. The Drop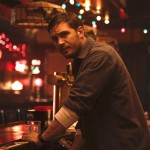 Tom Hardy stars in this slow burning thriller about a Brooklyn bartender who juggles a love interest, a local psycho and a new puppy. As if that wasn't enough, his uncle (James Gandolfini) is feeling the heat from the Chechen mob. No one phones in a performance here as all the main players impresses. Every character has their secret as the story gradually unfolds with a surprise twist that neatly ties up all the loose ends. The Drop would turn out to be Gandolfini's last role before his untimely death. It's a respectful end to a legendary career.
8. X- Men: Days Of Future Past
The X-Men films have proven to be unique for this day and age. Whereas other franchises are hastily rebooted, the series has existed in the same cannon for 14 years. After an absence of eleven years, the man who started it, Bryan Singer, returns to the director's chair for X-Men: Days of Future Past. The set pieces are spectacular and exciting. Although the story that as a metaphor for bigotry it's good to switch off at times and be entertained. The Sentinels themselves are fantastic as is the display of the mutant powers on show, most notably Quicksilver (Peter Evans). With X-Men: Apocalypse already announced, it's clear Fox aren't slowing down the juggernaut any time soon. A wonderful post credits scene will have the fan boys screaming in delight but may leave those unfamiliar with the source material a little puzzled. If you thought the DOFP was ambitious, you ain't seen nothing yet.
7. Interstellar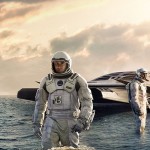 Christopher Nolan returns replacing Gotham for space in Interstellar. Earth has a bleak future as dust clouds are destroying crops and eradicating mankind's food source. Humans were never going to let something like the apocalypse get in the way of their survival, so naturally they have a plan to save the world, or at least the people on it. Matthew McConaughey continues his run of good choices, starring as a widowed astronaut that's tasked with finding a suitable replacement for Earth. The film is visually stunning with a slightly surrealist narrative that is inevitably comparable to 2001: A Space Odyssey. Despite Nolan's popularity, his recent efforts continue to polarise audiences and Interstellar is no exception. For me though, I was blown away. By the time the credits rolled I felt as if I'd been on a journey. As puzzling and inquisitive as the plot was, one thought kept going through my head, "Nolan, you've done it again."
6. Fury
Fury is a not a film for the faint of heart, and neither should it be. Director David Ayer doesn't shy away from the horrors of World War II, instead he forces his gaze upon the suffering, both physical and mental. There is a fair amount of gore on screen however it's not gratuitous. Despite the graphic blood and guts on display, Ayer focuses on the fractured relationships of the squad and their razor's edge environment. Brad Pitt excels as the rugged Collier. He's a man that's lived the hell of war for so long that it's now home. Although he comes across as uncaring, he's simply focused on ensuring that his men survive. If World War II films are to your taste, then Fury is for you. It brings something fresh to the genre yet will still feel completely familiar to audiences. Stephen Spielberg may have set the benchmark with Saving Private Ryan, with Fury, Ayer has drawn his own line in the sand.
5. The Lego Movie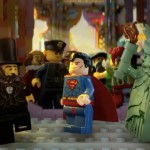 "Everything is Awesome" is the title of the theme song and it's hard to argue. No film screams fun as much as the Lego Movie as the age-old battle between good and evil is told with pieces of plastic blocks. It's a bright and noisy movie that accelerates along at 100 mph, refusing to give your senses any rest. Directors Phil Lord and Christopher Miller aren't strangers to making a good kids film (Cloudy with a Chance of Meatballs) or knowing how to hit those comedy beats (21/21 Jump Street) and harness those talents expertly here. The humour is fantastic with many subtle jokes aimed at adults to ensure that their attention is kept, lest they fall into a catatonic state.
4. '71
It's 1971 and the Troubles in Northern Ireland are at boiling point. The sectarian divide breeds violence which creates a hostile environment. Gary Hook (Jack O'Connell) is a young British soldier whose regiment is deployed to Belfast. During a routine assignment, Hook is separated from his regiment and finds himself hunted by the PIRA. No scene is wasted as every shot and plot point is used to benefit the story. '71 is not a comfortable film but it is a well paced, gritty thriller that continues to show why O'Connell is fast becoming one of the UK's finest actors with another sublime performance.
3. The Wolf of Wall Street
Martin Scorsese and Leonardo DiCaprio team up for the fifth time in an adaptation of Jordan Belfort's autobiography The Wolf of Wall Street. DiCaprio is on career defining form as Belfort, an utterly hateful character that nevertheless has us fixated for the three hours he's on screen. Scorsese pushes the censors as much as he can with an expletive filled tale of debauchery that, as Morrissey said, would make Caligula blush. It's over the top, compelling and assisted with phenomenal performances by Margot Robbie and Jonah Hill (not forgetting a scene stealing cameo from Mathew McConaughey). It won't be to everyone's tastes, but should satisfy those with an appetite for excessive depravity. It's also very funny.
2. 12 Years a Slave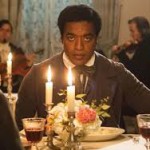 If ever a film trailer screamed "just give us all the Oscars" then it was Steve McQueen's 12 Years a Slave. Based on the life of Solomon Northup, McQueen presents a harrowing and sickening snapshot of history. McQueen pulls no punches as we the horrors of the slave trade are revealed which makes you question how such injustices could have been allowed to happen. The cast is superb with Chiwetel Ejiofor playing the luckless Solomon and Michael Fassbender as Epps, a sadistic and cruel slave owner who treats his "property" with inhuman disdain. Perhaps the standout performance was from Lupita Nyong'o who made her feature film role as Patsey. She more than deserved her Oscar as did 12 Years a Slave winning best picture. The violence may be unflinching, but it isn't superfluous; it's a film that will stay with you long after you've finished watching with a story that has you rooting for the good guys from start to finish.
1. Dallas Buyers Club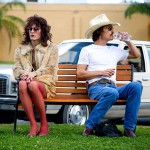 Matthew McConaughey is Ron Woodroof. A modern day cowboy, a real man's man. When he's diagnosed with AIDS he finds the news difficult to believe as he's not gay. This is a time when little was understood about the virus, including how to treat it. After taking an experimental drug that makes him more ill, Ron travels to Mexico where he is educated to the dangers of the drug he's taking. He is treated with medicine not approved in the US, however he soon discovers that it's helping him. He strikes up an unlikely relationship with Rayon (Jared Leto), a transvestite who has been diagnosed with HIV. As Ron and Rayon begin selling the illegal drugs to AIDS patients, they soon find themselves up against the US Government who have taken objection to their dealings. Much has been said of McConaughey's career renaissance, and he more than earns his Best Actor Oscar here. He portrays a frail and bigoted man who takes us on his journey to redeem his soul. As good as his performance is though, it could be argued that Leto steals the show. Known more as rock star these days, Leto turns in the performance of his career, helping bring warmth and humanity to the story through Rayon, providing the spiritual crutch that Ron needs. A thought provoking tale that highlights the greed of the US medical system without being bogged down too much in the politics. It's as complete a film as you'll see, and for the me the best one to be released this year.
Latest posts by Thomas Simpson
(see all)