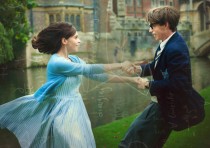 As always appears to be the case with Hollywood through the years, we are once again presented with two very similar films in as many months. This time the overlapping subject matter is the lives of renowned British scientists. Following on from the acclaimed performance by Benedict Cumberbatch in The Imitation Game we now have the life of Stephen Hawking being examined in detail with the Oscar baiting drama, The Theory Of Everything.
The film is adapted from the memoir of Hawking's first wife Jane. It starts off at Cambridge University in nineteen sixty-three when Hawking was a very promising Physics undergraduate. He is introduced to Jane at a party and an immediate connection is forged. As their relationship develops alongside his reputation as a scientist the couple are faced with a major obstacle. After a fall, Hawking is diagnosed with Motor Neurone disease. He is given only two years to live in which time he will physically deteriorate to the point where he will isolated within his own body, unable to communicate with the outside world. Instead of taking the advice of Hawking, June decides to commit herself to his care. They marry and have a family. The film then goes on to detail their relationship which in the words of the wedding vows is for better or worse. In sickness, and in health.
Much has been made of the main performance of Eddie Redmayne as Hawking. It is at the heart of the film and without it coming across as authentic the film would not have had the same impact. Redmayne has gone into great detail regarding the preparation required for the role. He had to train his body in such a way that he had the look and the movements of a person suffering from the disease. It is a superb performance as you see on the screen the transformation of a man who is at first a little clumsy and awkward and how he slowly changes and deteriorates. It is as if the mans body is closing in on itself and he is becoming smaller, like the theory of black holes he is developing. The outward physical performance aside, Redmayne shows once again that he is a superb acting talent. With only limited avenues to create mood and expression due the restrictions of Hawking's body movements he is able to convey much using his eyes and facial expressions.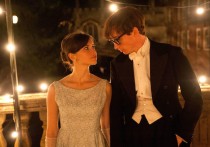 Felicity Jones, as June, tackles a difficult role very well. As in the movie, the role June played in real life was a supporting character to a respected and brilliant man. Working alongside the headline performance of Redmayne could not have been easy for her. Jones takes the role and plays it in a quieter, un-showy way. There is nothing stand out about her work which is exactly what the film required. She is the rock for her husband and her family. Everything that he is in a position to focus on is because of her hard work in the background.
The film comes across as being very British in its attitudes and outlook. There is a stiff upper lip element to the proceedings. Hawking, at several points wants nothing to do with doctors or carers as it would be an indication of failure or resignation to his fate. He never is seen complaining about his lot other than a fleeting expression on his face. There is a component of make do as well with June taking on the responsibility for Stephen's care and well-being. Later on we see how June copes with the stresses by joining a church choir at her mother's insistence.
Where the film does seem lacking is in the heart of the ongoing relationship. There are little or no conflict between the two principal players in this drama and it feels that this may have been glossed over. The marriage was obviously complicated and possibly frustrating at times. To have a little of this on-screen would have changed the mood of the film and created a little darkness and possibly made the film even better.
Overall, an entertaining, if a little overlong, recounting of a relationship that came under great pressure and one of the finest performances you will see this year. Recommended.
Editor-in-Chief at Moviescramble. A Fan of all things cinematic with a love of Film Noir, Sci-Fi and Julia Roberts in Notting Hill. He hopes to grow up some day.
Latest posts by John McArthur (see all)