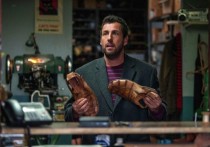 It looks like Adam Sandler is finally starting to listen to his critics a bit more these days. For many people his best on-screen performance was in the Paul Thomas Anderson drama Punch Drunk Love, which saw Sandler excel in a non comedic role that highlighted the depth to his acting talents. Until this year's Men, Women and Children he has pretty much stuck to the same tired comedy vehicles. With the release of The Cobbler we may once again get to see him playing to his dramatic strengths.
Sandler plays the cobbler of the title, who by chance discovers that an old shoe repair machine allows him to literally step into the shoes of the owner of the footwear. The film makers could have gone for a full on comedy based on the subject matter. Instead, on the basis of the trailer, it appears that the film will be a bittersweet tale with some light comedic elements. Stellar support comes in the form of Dustin Hoffman, Steve Buscemi and Ellen Barkin.
The Cobbler hits UK screens on the 10th of April 2015
Editor-in-Chief at Moviescramble. A Fan of all things cinematic with a love of Film Noir, Sci-Fi and Julia Roberts in Notting Hill. He hopes to grow up some day.
Latest posts by John McArthur (see all)