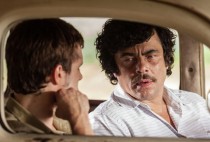 Pablo Escobar was one of the most divisive figures of his time. An internationally known drug dealer with a penchant for violence, he was also seen by some as a hero in Columbia. For every story of a brutal murder there is a counter tale of a new hospital being built or a community church saved. The film Escobar: Paradise Lost takes the legend and weaves a fictional story of love and betrayal around him.

Josh Hutcherson stars as Nick who has fallen in love with Maria (Claudia Traisac), a Colombian girl. She happens to be the niece of Escobar (Benicio Del Toro). As Nick becomes accepted into the family he is drawn into the darker side of Escobar's activities with potentially fatal implications.
Escobar: Paradise Lost, from first time director Andrea Di Stefano, has been appearing on the festival circuit since it's premiere at the Toronto International Film Festival in September. It will be released in the second quarter of 2015.
Editor-in-Chief at Moviescramble. A Fan of all things cinematic with a love of Film Noir, Sci-Fi and Julia Roberts in Notting Hill. He hopes to grow up some day.
Latest posts by John McArthur (see all)