Birdman
Oscar Nominations: Best Motion Picture of the Year, Best Performance by an Actor in a Leading Role Best Performance by an Actor in a Supporting Role), Best Performance by An Actress in a Supporting Role Best Achievement in Direction, Best Screenplay Written Directly for the Screen, Best Achievement in Cinematography, Best Achievement in Sound Mixing, Best Achievement in Sound Editing. Click here for our Review.
If you haven't seen Birdman, you absolutely must. It is like nothing else you will have ever seen. You may just be watching a movie that changes the language of modern film and if not, you will spend a couple of well spent hours laughing. Wonderful performances, a crafted script and cutting edge direction should mean it is a worthy winner. Its ingenuity and obvious dig at the film industry may mean it misses out on actually winning very much. It would however be a travesty if it did not win Best Original Screenplay and Best Supporting Actor for Ed Norton. It may just sneak in and win Best Actor although there is some tough competition from Brits Eddie Redmayne and Benedict Cumberbatch. Sadly Ralph Fiennes was not nominated for his role as M. Gustave in the Grand Budapest Hotel. I can't help feeling that Fiennes is such a consistently good actor that we almost expect it of him, I thought his performance was wonderful and deserved a nomination. Although Redmayne is the likely choice, my vote would be for Steve Carrell in …
Foxcatcher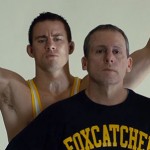 Oscar Nominations: Best Achievement in Directing, Best Performance by an Actor in a Leading Role, Best Performance by an Actor in a Supporting Role, Best Screenplay Written Directly for the Screen, Best Achievement in Makeup and Hairstyling. Click here for our review.
Out this month is the wrestling thriller (yes that is correct, the wrestling thriller) Foxcatcher. Although I have no interest in wrestling, I could always find an interest in Channing Tatum and Mark Ruffalo grappling, but it looks like there is a lot more to Foxcatcher than that, not least of all the performance of Steve Carell. He has always been likeable and funny, but he hasn't put in that standout performance that would open him up to a better variety of roles. Perhaps he has been ploughing away at his trade, ready to pounce on us with venom.
The Grand Budapest Hotel
Oscar Nominations – Best Motion Picture of the Year, Best Achievement in Directing, Best Screenplay Written Directly for the Screen, Best Achievement in Cinematography, Best Achievement in Editing, Best Achievement in Production Design, Best Achievement in Costume Design, Best Achievement in Makeup and Hairstyling, Best Achievement in Music Written for Motion Pictures. Click here for our Review
Wes Anderson's Grand Budapest Hotel is a colourful, theatrical adventure story that is a love letter to historic French cinema of the likes of the Lumiere brothers. Fans of Anderson will probably feel that this is by no means his best work and that previous efforts such as the Fantastic Mr. Fox and the Darjeeling Limited deserved more recognition however it is at times wonderful and thoroughly enjoyable. Birdman and Grand Budapest Hotel are both worthy of the highest recognition although you could not find too styles of film making more different. One is like a story book that has come to life, the other a true glimpse into real life; one Director is expressing his love for cinema in a nostalgic and delightful way, the other is turning film making on its head, pulling it inside out and exposing its guts; one Director has framed every shot neatly and symmetrically, the other has the camera wobbling around after the actors, too close for comfort in frames that are often chaotic; one film is like a lovely cup of English Tea, the other like a neat shot of hard whiskey. There is no doubt in my mind that both Directors are talented artists, but for a film to be great, it must end giving the viewer some kind of satisfaction, something that is missing from both of these films and may mean neither of them win Best Picture.
American Sniper
Oscar Nominations: Best Picture Motion Picture of the Year, Best Actor in a Leading Role, Best Adapted Screenplay and Best Film Editing.
Another serious looking trailer, Bradley Cooper not only looks bad-ass he looks deep, deep enough for an Oscar nomination. With Eastwood behind the camera, it will certainly involve an exploration of man's soul and will be unlikely to have a happy ending (that is not a spoiler, just an experienced guess). What I like about many of Eastwood's films is his ability to draw the viewer into the mind of his anti-heroes and their internal struggles. His focus is on the man in the situation, not the situation or the politics. I hope that is what he brings to American Sniper – the very real struggle for humanity within a man trained to be a soldier and an effective killer.  Although definitely worth watching, the word on the street is it is not likely to win Best Picture. I would seriously doubt Bradley Cooper will win Best Actor although Silver Linings Playbook has convinced me he does have a potential Oscar win in him.
Still Alice
Oscar Nominations: Best Performance by an Actress in a Leading Role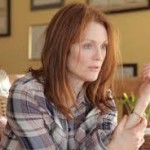 Julianne Moore has proved herself to be a steady performer with a penchant for picking a fantastic range of roles. I particularly enjoyed her in the likes of Magnolia where she expertly invokes sympathy for a seemingly shallow character. In Still Alice she plays a Linguistics Professor struggling to deal with the onset of Alzheimer's disease and the strain that puts on her family and relationships. There has been some comment that the film is perhaps a little safer than some of her other choices and that it doesn't give her much scope to excel however audiences Stateside have certainly enjoyed it. Although it may touch the hearts of those with some experience of Alzheimer's it is unlikely to go down in history as a classic with comments being made that it is overly dramatic and clichéd. Still Alice is released in the UK in March 2015.
Wild
Oscar Nominations: Best Performance by an Actress in a Leading Role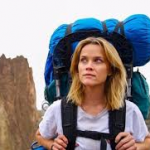 Also in the running for Best Actress is Reese Wetherspoon for her performance in Wild. Wetherspoon's choices in roles is varied, some show guts and some seem to be safe bets.  Her performance and Oscar for Walk the Line certainly proves she has great talent however has she done enough in Wild for another? She plays a woman with a messy past who embarks on a 1,100 mile solo mile across the Pacific Crest Trail to face her past and her relationship with herself. The film has the potential to be something great but it has received some poor reviews from audiences and critics who found it disappointing. Undoubtedly it seems that Wetherspoon puts in another fine performance, but Director Jean Marc Vallee has failed to connect to audiences with the story. Potentially inspiring for women, it doesn't look as though it has quite the originality or the rawness of Tracks, the 2013 film starring Mia Wasikowska with a similar premise. I will still give it a watch, if only to daydream later of my own crazy trek in the wilderness … one day, one day.
Writer and film geek with as much love for the classics as the films that turn everything on its head.
Latest posts by Vhairi Slaven (see all)