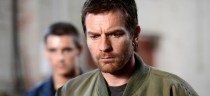 Son Of A Gun marks the feature debut of Australian writer / director Julius Avery. He has been making short films for a number of years and has graduated to a full length feature that has been well received in his native Australia and on the international festival circuit. It features the talented Alicia Vikander who has appeared in two other films already this month.
JR (Brenton Thwaites) has just arrived in prison on a six month sentance for a minor offence. He is drawn to the top dog Brendan Lynch (Ewan McGregor), Australia's most notorious criminal. An appreciation of chess and the near rape of JR brings him under the protection of Lynch. That protection comes at a price as JR is instructed to help carry out a prison break once he is released. Reluctantly he does this and succeeds in freeing Lynch and his prison comrades. For JR the nightmare isn't over. Lynch arranges to hide out at a friends place and while there JR comes into contact with Tasha (Alicia Vikander), a hostess who is strictly off limits. When Lynch arranges a high risk theft things started to come to a head.
For me, the performance of Ewan McGregor was the stand out. He is able to portray the character of Lynch in a very interesting way. Instead of an act full of histrionics he dials it down to quite a still yet menacing feeling. There is always the air of something about to kick off and that's what makes it so special.
Unfortunately it overshadows the rest of the cast. Brenton Thwaites character, JR, is the central character and everything that unfolds in the story is seen from his point of view. You get the impression that JR's back story is not as developed as it could be. It seems slight and realistically cannot carry the film.
The film certainly looks good. The first third is set in the high security prison and good use is made of the confined quarters. It adds to the tension and heightens the drama that JR is encountering. The action scenes are handled well with the violence shown for what it is. There are no attempts to add glamour to the proceedings.
Unfortunately the story lets the film down. The basic tale of a young man taking up with more experienced criminals and finding himself in over his head has been done several times before and to better effect. The problem is that there is no real original angle here. Basically you can figure out what is going to happen and when. It's a bit of a shame as a different take on the premise would have elevated the film by some margin.
Overall, a good looking film with a stand performance from Ewan McGregor which isn't really enough to keep you interested.
Latest posts by John McArthur
(see all)