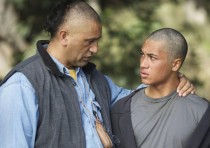 During the Q&A after the film had screened the star and co-producer of The Dark Horse, Cliff Curtis, was asked about the themes of the film and how they would be received in the international film community. He made a very valid point while talking about the way the film dealt with homelessness, mental illness, families in a crisis, gang culture, Maori mythology and chess. A film like this would never get made in Hollywood today. It just wouldn't get past the pitching stage of the process. Fortunately there are those who are willing to take a chance on something a little different.
Genesis Potini (Cliff Curtis) was The Dark Horse. Taught to play chess as a youngster by his older brother he soon took to the game in a big way. He won a couple of local tournaments and was making a name for himself. Unfortunately his future was dragged away from him in the form of bipolar disorder. In and out of hospital for many years had its effect on him. On a constant regime of pills he can only get out of hospital if he can go to a caring and safe environment. His only hope is his brother Ariki (Wayne Hapi). The home which Genesis moves to is not exactly pleasant as Akiri is the head of a local Hells Angels style gang. He has a son Mana (James Rolleston) who is about to inducted into the gang.
Genesis knows that he has to find stability in order to keep healthy so he decides to join a local club that teaches chess to neighborhood kids. In doing this, he feels he is giving something back while helping himself. He immediately engages with the youngsters using Maori folk tales to help teach them about chess. Problems with his brother and their conflict over Mana's future threaten to smash everything Genesis is working towards.
This an extraordinary film. The film is, in part, based on a documentary from 2003 which focused on the life of Genesis. The story is something that you wouldn't believe as plausible if it were presented as fiction. Cliff Curtis did more than just portray the character of Gen. He pretty much became him. The most obvious aspect is the physical transformation. Curtis gained over 54 lbs as part of his process. His performance is at the heart of the film and if it were anything less than authenticate the film would surely have failed in its goal. He disappears into the role and becomes the character. With all the mannerisms that make up the man it is simple to forget the actor underneath it.
The film does not hold back from fairly weighty subjects. Mental illness and the way people react to it is a central theme of the film. Through the eyes of Gen, we see how he is treated and some time dismissed for who he is. Chess is seen in the film as being more than a board game. For lovers of the game it is a means to interpret life itself. It can be used as a strategy for life especially for fragile souls like Gen. In order to survive they just have to think several moves ahead of normal people. It is a defense mechanism in a way. The film covers this and also shows how a game like this can be used as a catalyst for learning and progression in life. As they note in the movie, the kids have nothing to work towards. This at least gives them a chance.
The direction of the film from James Napier Robertson is quite interesting with a mainly hand held approach to the shooting. This allows the drama to flow as we follow Gen in his routines. There is little need for static and long shots to convey mood as we get that from the way the story unfolds and the towering presence of the principal character.
The supporting characters were a revelation given that many were not professionals. Wayne Hapi as Akiri is full of menace and is an imposing screen presence. He was, at one time, a gang leader and was able to translate that into his performance. For the role of Mana the young actor James Rolleston had to tread a fine line between being too emotionally fragile and unsympathetic. He pitched his role just right and his story ends up as the emotional core of the film.
Overall, a film that will delight and move you in equal measure. Well worth a couple of hours of your time. Highly recommended.
Editor-in-Chief at Moviescramble. A Fan of all things cinematic with a love of Film Noir, Sci-Fi and Julia Roberts in Notting Hill. He hopes to grow up some day.
Latest posts by John McArthur (see all)