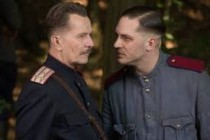 Just released is the first trailer for Child 44, the new film from director Daniel Espinosa (Easy Money, Safe House). Adapted from the best selling novel by Tom Rob Smith, the film stars Tom Hardy, Noomi Rapace, Gary Oldman, Joel Kinnaman and Vincent Cassel.The story is set during the Nineteen Fifties in the Soviet Union. Leo Demidov (Tom Hardy) is a disgraced security officer who is investigating a series of murders in a State that denies the existence of such a thing in the Stalin era. He, and his wife Raisi (Noomi Rapace), carry on with the investigation despite the pressure from the authorities to leave it be.
The novel was a real page turner and if the film is even half as good it will be a terrific thriller. Child 44 will be released on the 17th of April 2015.
Editor-in-Chief at Moviescramble. A Fan of all things cinematic with a love of Film Noir, Sci-Fi and Julia Roberts in Notting Hill. He hopes to grow up some day.
Latest posts by John McArthur (see all)