For the gala opening of the 2015 Glasgow Film Festival we were treated to the UK premiere of the Noah Baumbach film While We're Young. In cinematic storytelling the tale of growing old has become almost as prevalent as the coming of age story. For a public that is statistically living longer than ever before there is a certain relevance to seeing representations of themselves on-screen. It does no harm to the prospects of the film that there is an audience already there.
Josh (Ben Stiller) and his wife Cornelia (Naomi Watts) are a happily married couple in their mid-forties. Their relationship is more comfortable than passionate these days. They are both professionals working in films. Josh is a successful documentary film maker who is struggling to complete his latest work. His wife is a producer, working for her father's company. Into Josh's life comes Jamie (Adam Driver) and Darby (Amanda Seyfried). They are young , enthusiastic free spirits who represent everything that Josh and Cornelia have let go. As the friendship develops between the four Josh starts to get a new lease of life. This new attitude changes them and affects everyone around them.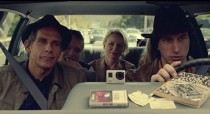 The main publicity shot for the film is a great piece of storytelling in itself. It conveys the main and sub plots better than any trailer could possibly allude to. The expressions on the faces speak volumes. Jamie is driving, staring straight ahead, focussed and in control, countering the laid back hipster credentials he is so keen to promote. Josh is sitting beside him with a really contented look upon his face. He has found himself in a place he wants to be and is appreciating every minute of it. In the back seat, between the two males, is Cornelia. She only has eyes for her husband and looks at him with a loving glance. Darby is nowhere to be seen, hidden behind Jamie in all senses of the word.
Stiller and Watts have a very natural on-screen chemistry. They look and feel like a real couple. It's the small touches rather than the main gestures that convey this to the audience. They appear to be totally at ease in each other's company. It is this relationship that drives the movie forward.
The film has a very bittersweet feel to it. There are a number of scenes and references that most people will identify with regarding relationships. Although laced with humour it has a few darker edges that make reference to the aging process and the how it appears to affect a person's place in society. While their long-time friends are in the early stages of raising a child Josh and Cornelia begin to feel quite distant from them as they have no point of reference with infants. Even when they try it falls flat as highlighted in the scene where Cornelia attends a Mother and Baby sing-a-long and has a panic attack upon seeing the mothers all act just like their infants.
The film also deals with perceptions and first impressions. The initial meeting between Josh and Jamie gives the impression that Jamie and Darby are totally liberated and free. As the relationship develops the subtleties start to reveal the true nature of the situation. They have the same issues and concerns as everyone else. They just mask it a little better than most.
Overall, an entertaining and enjoyable comedy drama which showcases the dramatic talents of its leads. Recommended.
Latest posts by
John McArthur
(see all)