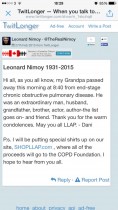 It with extreme sadness that we mark the passing of Leonard Nimoy at the age of 83. He died on Friday morning in Los Angeles and had been suffering from chronic lung disease. Nimoy had a long career both in front of and behind the camera.
He came to the attention of the public in the late nineteen sixties as the half Vulcan, half human science officer Mr Spock in the original Star Trek series.  The show was a great success with Nimoy getting some of the most memorable story lines and arguably the best characteristics of any of the cast members. The Vulcan nerve pinch, the suppression of emotion and his catchphrase of live long and prosper ensured he would be a fan favourite as the show became, first a cult, then a full blown phenomenon.
As well as reprising the role in the first six films of the Star Trek movie series (see our reviews here) and the JJ Abrams recent reboots, he also stepped behind the camera to direct two of them. He followed this by directing the smash hit comedy 3 Men and a Baby.  His acting and voice work keep him busy in other movies and TV work in between boldly going. His last major role was as a recurring character in the Sci-Fi TV series Fringe.
For me, Leonard Nimoy was a major part of my childhood and the enduring appeal of the Star Trek universe meant that I was a fan of his work from then on. He will be missed.
Latest posts by John McArthur
(see all)