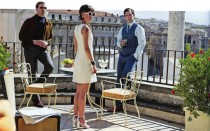 Coming soon to save the world, if you are in 1963 that is, is the new film from director Guy Ritchie. The Man From U.N.C.L.E. is a big screen remake of the hugely popular TV (and occasional film) series that initially aired between 1964 and 1968. Henry Cavill stars as the dapper american spy Napoleon Solo with Armie Hammer as the Russian, Illya Kuryakin.
The plot sees the two rival spies forced to team up to try to defeat a common enemy that threatens the entire world as they try to procure a nuclear arsenal. The film is rich with period detail from the sixties and looks to be taking itself not entirely seriously, in the same way that Richie's Sherlock Holmes movies did. Providing support to the leads is Alicia Vikander in one of her many screen roles this year (eight at last count), Jared Harris and Hugh Grant as the Waverly, the head of U.N.C.L.E.
The Man From U.N.C.L.E is released on the 14th of August.
Latest posts by John McArthur
(see all)