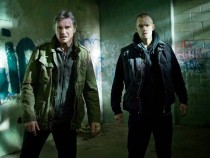 On the face of it, and backed up by the less than enthralling trailer, Run All Night is yet another vehicle to showcase the action talents of Liam Neeson. Initially this put me off the film as it seemed it would be a everyday tale of revenge featuring a guy with a very specific set of skills. To its benefit, the film exceeds expectations.
Jimmy Conlon (Liam Neeson) is kind of done. He is a former enforcer for gangland king Shawn Maguire (Ed Harris). Shawn has a son, Danny (Boyd Holbrook), who is trying to impress his father by putting together a drug deal with the Albanian mob. The deal falls through due to Shawn's reluctance to revert to non legal business practices. The consequence is that Danny get frustrated and kills the Albanians. This is witnessed by their Limo driver who happens to be Mike (Joel Kinnaman), Jimmy's estranged son. Danny attempts to eliminate Mike but Jimmy gets in the way and shoots Danny. This action sets Jimmy as a wanted man. He and Mike must figure out a way to emerge from the situation while being pursued by gangsters, corrupt cops and a very focused contract killer.
The trailer makes this out to be an adrenalin fueled action movie which is actually a little misleading. The film begins at a very sedate pace with a shot of a wintry and misty lake. A lament plays quietly in the background. This basically informs the rest of the movie. There is a vein of sadness and regret that runs through it. Of course there are car chases and gun fights, but at its core this is a drama about a man trying to do the right thing for once in his life.
Neeson could have played this in pretty much the same way as some of his other recent action outings. Instead he choses to go almost to the opposite extreme. Jimmy has invoked more than his fair share of violence and is now contemplating the last chapter of his life. This is brought to the screen in a way that oozes weariness. Below the surface there is still the feeling that violence may not be too far away, but he is doing his utmost to suppress it.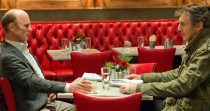 Playing alongside this performance is the other main player, Shawn (Ed Harris). With Jimmy's persona being very quiet, it frees Harris to a bit of scenery chewing in his over the top portrayal. Ed Harris is an actor that I have admired for many years and he never disappoints. Even in a film that lacks quality, he always is good. Here he is the perfect foil for Neeson's performance.
Where it has to be, the film is slickly paced and the action scenes are constructed in a way that it makes it appear logical and realistic. There is no need for rapid cuts and flashy camera angles as the flow of the scenes allow you to have an understanding of what is happening.
The set dressing, the cinematography and the overall feel of the film look back to the gritty thrillers of the 1970's. There is a feeling of rawness and more than a bit of grime. It can also serve as a modern take on the classic westerns. It touches on good and evil, the importance of family, legacy and redemption. The film also emphasises this with the choice of firearm on show. Johnny's weapon of choice is a silver six-shooter and at one point he ends up using a Winchester repeater rifle. Add spurs and a stetson he would be a latter-day cowboy.
Overall, a deviation from the prevailing action films that Liam Neeson is known for these days. A welcome change. Recommended.
Latest posts by John McArthur
(see all)