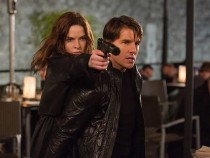 As well as getting a teaser trailer for the new Mission Impossible film, the title has also been released. Number five in the series will go by the title of Rogue Nation. In the directorial chair this time is Christopher McQuarrie who has collaborated with Tom Cruise on a couple of occasions in the past, notably on writing duties on Valkyrie and the 2012 hit Jack Reacher.
Although the plot details are sketchy the main thrust of the film is the discovery of another international spy organisation called The Rogue Nation. The anti IMF if you will. Cue fights, stunts and as much action a you could possibly want. A full length trailer will be following on in the next few days.
Mission Impossible: Rogue Nation is released on the 31st of July
Editor-in-Chief at Moviescramble. A Fan of all things cinematic with a love of Film Noir, Sci-Fi and Julia Roberts in Notting Hill. He hopes to grow up some day.
Latest posts by John McArthur (see all)