Nuri Bilge Ceylan has developed a reputation as a film maker of some note. His previous award-winning film, Once Upon a Time in Anatolia, was critically acclaimed and became one of the top rated movies in many of the 2011 end of year lists. To follow-up this release he has gone back to the bleak landscape of Anatolia for the drama Winter Sleep.
Aydin (Haluk Bulgner) is a former actor who runs a small hotel in rural Anatolia. Living with him in the rather unique setting is his young wife Nahil (Melisa Sozen) and his sister Necla (Demet Akbag). Aydin has a small staff that runs his affairs including his inheritance consisting of most of the local properties in the area. While out in his car a window is smashed by a young boy. It transpires that he is the child of a tenant who is facing eviction from their home and is acting out against the person who he thinks is behind it. This is the start of a series of events that bring to the fore the problems of the three inhabitants of the hotel and lead to the airing of some very uncomfortable truths.
One thing you can say is that the film doesn't rush. With a run time just over three hours the pace is particularly laid back. There is a gentle rhythm that lulls you into thinking that nothing much is happening. Through a series of seemingly low key discussions you get a real insight into the history of the relationships. Aydin has a complex relationship with everyone close to him. The others are no simpler.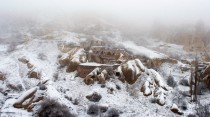 Aydin has settled into a life of routine and relaxation. All the work associated with running the hotel has been devolved to others and the management of his properties is in the hands of Lawyers. He spends his time writing articles for the local paper, conducting research on a book project and having long discussions with those around him. As a consequence he has lost contact with reality. When asked direct questions about the business he brushes them off as if they are someone else's issues. He is just like a lord or a king who enjoys ruling but finds the details a bore.
His sister is basically in denial. She is living with Aydin after a particularly unpleasant divorce. Her outlook on life is totally screwed with the argument that if someone does you wrong you should forgive them. No one agrees with her. She then goes out of her way to have a war of words with Aydin who, as with everything else, wants little to do with her.
The drama on the screen is set against some of the most interestingly bleak scenery committed to film. The hotel is one such point. Instead of a normal building the complex is carved out of the side of a hill. It looks just like something from a bizarre fairy tale. It gives the film a very eerie feel and it accentuates the tensions that are building up as the winter weather starts to isolate the hotel from the outside world.
Overall, an atmospheric and subtly engrossing film with complex and interesting characters. Recommended.
Latest posts by John McArthur
(see all)