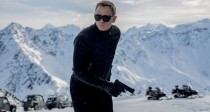 Just released on the 007.com website is the teaser trailer for the forthcoming James Bond film SPECTRE. The twenty-fourth installment in the series in the aftermath of the events from Skyfall, Bond receive a cryptic message from his past that sets him on a trail to uncover the dark and sinister organisation known as SPECTRE. As this is going on M is trying to keep MI6 from folding under intense political pressure.
Daniel Craig returns for a fourth outing as the super suave spy and is joined by Ralph Fiennes, Monica Belluci and Christoph Waltz in a film directed by Sam Mendes. The trailer does its job very well in that it instantly makes you want to see the whole film. Unfortunately we have to wait for several months yet.
SPECTRE is released on the 6th of November.
Latest posts by John McArthur
(see all)