April is the month of the Easter Weekend, so expect blockbusters, action thrillers and of course, a Marvel Movie.  Here we take a look at 10 movies you should check out this April.
Furious 7:  The Last Ride – in cinemas Friday 3rd April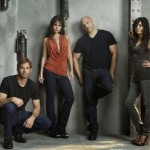 One of the most anticipated movies released this month is Furious 7, the last in the Fast and the Furious, a franchise which now invokes a certain amount of sentimentality since Paul Walker's death in November 2013.  Vin Diesel gave an emotional introduction at a recent advance screening in LA which showed how much love audiences have for the films, the actors and the memory of Walker.  As a tribute, our awesome team of writers has put together reviews for all seven films which you can find in our tribute to Fast and the Furious. In Furious 7, the team are rudely drawn out of their comfortable retirement in fancy houses by a mean looking Jason Statham as an ex-Special Forces Assassin out for revenge for the death of his brother.  Furious 7 looks like it had an incredibly big budget which means bigger names, faster cars, and massive explosions.  Definitely not one to watch before bed, it is sure your blood will be pumping as you are taken for "One Last Ride" with a team of actors, producers and directors with a great combined creative energy.  Check out our Preview and Trailer of Furious 7: The Last Ride.
John Wick – Released 3rd April 2015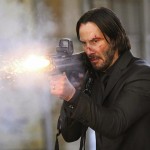 Keanu Reeves returns to the Action thriller genre in a tale of loss and revenge as John Wick, a hit man brought out of retirement after the puppy his dying wife bought him is murdered by his previous employer's son.  Another blood pumping revenge tale, and potentially a new action franchise for Reeves, John Wick looks like it is making no pretences:  this is Reeves in Action Hero mode, expect a thin plot, Russian Gangsters, and a seething Reeves dressed in black, killing everyone in sight.
The Water Diviner – Released 3rd April 2015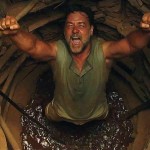 Russell Crowe directs and stars in an Australian story (loosely) inspired by true events following the battle of Gallipoli.  Crowe plays Connor, an Australian farmer whose three sons were killed in Gallipoli.  Connor takes on the seemingly impossible task of travelling to Gallipoli and convincing the Turkish soldiers to allow him to look for his sons bodies to take home.  A melodrama which explores the futility of war and the sorrow of those who are affected by it, it is receiving positive reviews from Australian and Turkish audiences and certainly looks like one of those films that reaffirms your faith in humanity despite the horrors it is capable of.  With Oscar winner Andrew Lesmie as cinematographer and Russell Crowe putting in an emotional performance without the effort of putting on an accent, it looks like a worthy watch.
While We're Young – Released 2nd April 2015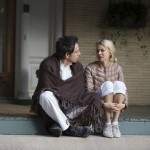 Ben Stiller and Naomi Watts star as Josh and Cornelia, a forty something couple going through a subtle mid life crisis when they meet hip young twenties couple, Jamie and Darby (Adam Drier and Amanda Seyfried).  Swept away by the youthful energy and contagious spontaneity of Jamie and Darby, Josh and Cornelia put themselves into some hilarious and embarrassing situations as they try to remain cool in their advances years.  Stiller appears to be practicing a subtler comedic style and the wonderfully versatile Watts seem to inhabit their roles creating great onscreen chemistry.  Our writer John McArthur found the film entertaining and enjoyable in his review of While We're Young as part of our Glasgow Film Festival 2015 Special.  This is definitely one for light laughs and a potential date movie (for singles and married couples alike).
Broken Horses – 10th April 2015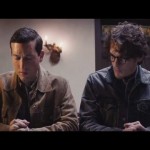 The intriguing trailer for Broken Horses opens with a quote from James Cameron: "An artistic triumph".  This is the first US release in history of an Indian produced and directed movie.  Director Vidhu Vinod Chopra is a massive name in Bollywood with a long, excellent career and perhaps one to watch.  Information about the film is limited, but we do know that plot is about two very different brothers involved in gang warfare on the Mexican border played by Anton Yelchin and Thomas Jane.  A tale about family relationships and gang wars, it looks dark, powerful and intriguing.
Good Kill – 10th April 2015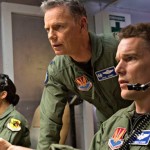 Ethan Hawke stars as Tom Egan, a drone pilot trying to figure out if there is any morality in blowing up supposed terrorists (and every now and then innocent bystanders including women and children) in Middle Eastern countries from the safety of a shipping container in Las Vegas.  This is a film raising important and timely questions about military operations.  In particular it addresses concerns around where the chains of command ultimately come from and to what level, who should take responsibility for mistakes and just where exactly the finger points.  Hawke as Egan, distant and troubled, is clearly having difficulty making peace with his job and  the very warped view of the military personnel around him , "Is it a just war?" a peer asks him,  "To us it's just war".  Director Andrew Nicol continues to express his condemnation for the powers that be in his third collaboration with Hawke in another thought provoking film that is likely to make you feel angry at a government that seems to be training soldiers to kill the enemy as though they are playing computer games.
Spring – released 17th April 2015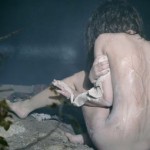 Continuing the recent trend for the Romantic Horror, Spring follows young American, Evan (Lou Taylor Pucci) as he runs away from his troubles to Italy and falls in love with strange and enigmatic Italian, Louise (Nadia Hilker).  They find themselves wrapped up in the throes of young love but all is not as it seems as Evan begins to discover that Louise has a dark secret.  From the trailer this movie looks sexy, passionate and terrifying and I  don't want to know too much about it because I think it has the potential to delightfully shock me to the core.  Watch if you like romance and thrills.
Child 44 – in cinemas 17th April 2015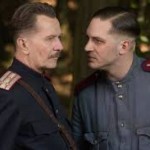 Tom Hardy and Noomi Rapace star alongside Gary Oldman in this thriller set in Moscow in 1952 in Stalin's Soviet Union.   Hardy plays pro-Stalin officer Leo Demidov who becomes involved in investigating a series of child murders at a time when it was dangerous to imply that these kinds of things happened.  Based on a best-selling trilogy, it is a thriller with dark undertones driven by excellent performances from Hardy, Rapace and, of course, Oldman doing what he does best:  being despicable. Having watched the trailer (which you can view at Thomas Simpson's Preview of Child 44) Hardy actually looks just as menacing as Oldman, this may just be my own perception of that look in Hardy's eyes that makes my heart beat faster.  This is definitely one to watch.
A Little Chaos – released 17th April 2015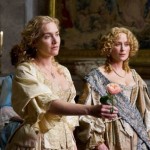 Kate Winslet and Alan Rickman are reunited onscreen in this romantic comedy/drama that looks as lovely as Kate Winslet's never aging face.  Winslet plays a female landscape gardener who somehow finds herself in the court of King Louis XIV and by the looks of it being courted by every man that she challenges and attracts in equal measure not least of all the handsome Andre La Notre (Matthias Schoenaerts).  It looks like a delightful film that will leave you admiring the beauty of film and the courage of the characters in the story.
Avengers: Age of Ultron – released in the UK on 23rd April 2015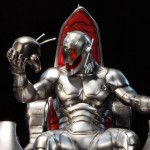 In Marvel Studio's latest offering Ultron is the evil entity threatening to wipe out human existence, this time in the form of Artificial Intelligence.  Tony Stark/Ironman (Robert Downey Jr) in an attempt to protect the world from evil and give the Avengers a break creates Ultron (voiced by James Spader) as a peace shield.  Ultron however decides that humans are the enemy and that they must be wiped out.  Ironman has to reunite the Avengers once more to fight their deadliest enemy yet.   Favourites, Captain America (Chris Evans), Black Widow (Scarlet Johansson), The Hulk (Mark Ruffalo) and Hawkeye (Jeremy Reiner) return to the screen looking world weary but as fit as humanly possible to fight Ultron and his robots with wit and style.  Newcomers to the ensemble are Elizabeth Olsen as Wanda Maximiff/Scarlet Witch, Paul Bettany as the Vision (awesome character name) and Aaron Taylor Johnson as Pierto Maximoff/Quicksilver who may or may not make it to the third phase of the Marvel Cinematic Universe (geeks – wow – what is this and is it a place you can visit?).  It is in 3D, it is all action, it has Downey Jnr and Ruffalo for the chicks and Johansson in lycra for the guys, what can go wrong?
I won't mention (ok I will) Lost River written, directed and starring Ryan Gosling which has had such a panning at the Cannes film festival it will probably go straight to DVD (but which I think I might actually like) or Everly (which is basically Salma Hayek in her apartment in various stages of undress shooting big guns as her boobs jiggle – what was she thinking?).
With the Bank Holiday weekend looming, April looks like an excellent month to go to the movies, for adults and kids, geeks and mainstream movie lovers. What will you be watching?
Latest posts by Vhairi Slaven
(see all)