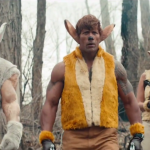 You can always trust Saturday Night Live to get the best out of their guest stars and this week was no exception. In a spoof trailer that sends up both The Fast and Furious franchise and Disney's recent obsession with live action versions of their classic back catalogue, we see Dwayne Johnson starring in the much-anticipated remake of Bambi.
The three minute clip is worth a watch for the pay deerly joke alone.
Editor-in-Chief at Moviescramble. A Fan of all things cinematic with a love of Film Noir, Sci-Fi and Julia Roberts in Notting Hill. He hopes to grow up some day.
Latest posts by John McArthur (see all)