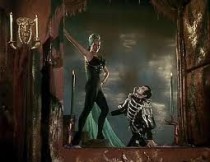 The latest from the restoration team at The Film Foundation is the on-screen adaptation of the opera The Tales Of Hoffman. After a limited run in UK cinemas the film has now been made available on DVD and Blu ray.
The stunning 4K restoration of the Powell & Pressburger film has been supervised by Martin Scorsese and Thelma Schoonmaker. Both have a very well documented love of the work of Powell & Pressburger and have been involved in previous restoration projects including The Red Shoes. The new version of the film includes two additional sequences thought lost, that were sourced from material held by the BFI.
The Tales of Hoffman was written for the stage by Jacques Offenbach in 1881. The story is based on three short stories from E.T.A Hoffman. The Opera in three acts tells the story of Hoffman's time with his three great loves, A courtesan, a soprano and an automaton.
The Tales Of Hoffman is out now.
Latest posts by John McArthur
(see all)