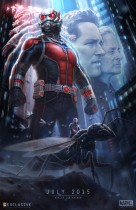 It looks as if Marvel have got it right again. There was a lot of discussion regarding just how good the Ant-Man film would be. With the recently released teaser trailer the jury was still out as the nature of the teaser isn't to give too much away. Now we have the first full trailer released which will silence the doubters.
As we already know, Scott Lang (Paul Rudd) is a petty thief who is given a second chance by the mysterious scientist Hank Pym (Michael Douglas). Scott must take on the role of Ant-Man in order to pull off a heist that will protect the future from a serious threat.
The trailer certainly whets the appetite and the final images are just fantastically funny. Ant-Man is released on the 17th of July.
Editor-in-Chief at Moviescramble. A Fan of all things cinematic with a love of Film Noir, Sci-Fi and Julia Roberts in Notting Hill. He hopes to grow up some day.
Latest posts by John McArthur (see all)