2011 saw the fifth release in the hugely successful Fast and Furious Franchise.  Not even two minutes in and the roar of engines in the dessert signals a spectacular prison break from a high security bus as O'Connor (Paul Walker) and Mia (Jordana Brewster) bust out the recently convicted Dom Toretto (Vin Diesel).  The wanted trio make a run to Dom and Mia's native Brazil and it's not long before an "easy job" is laid on the table which of course means trouble.  Stealing DEA cars from a train for a Brazilian gangster results in a frenzy of action involving overturned exploding trains and a spine tingling dive into a river. 
Anyone commenting on the fact that they would never survive that fall, you're kind of missing the point.  Torreto, Mia and O'Connor discover what the Brazilians are really after: a microchip with the details of every money shop of Brazilian gangster, Reyes.  Now no longer an easy job, the guys fly in the gang:  Roman (Tyrese Gibson), Tej (Ludacris), Han (Sung Kang), Gisele (Gal Gadot), Leo (Tego Calderon) and Santos (Don Omar) for their expertise and general good chat to steal Reye's millions to buy their freedom.  They just happen to be saving Rio De Janeiro from the clutches of an evil drug lord as well of course.
This time the agent on their tale is Luke Hobbs, played by the massive muscular mound of a man that is Dwayne Johnson, clearly having fun overacting.  The scorching heat of Brazil means extra layers of oil posing as sweat on Johnson's gigantic muscular arms which steal every scene he is in, only just outplaying the huge vein in his head.  We are teased with the thought of Vin Diesel and the Rock fist fighting throughout most of the movie and are not disappointed when it happens.  The two hardest men in Hollywood do in fact fight like superheroes.  Although determined to hunt down his targets by any means possible, in the end, even Hobbs can't help but fall for the heroic Toretto.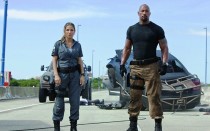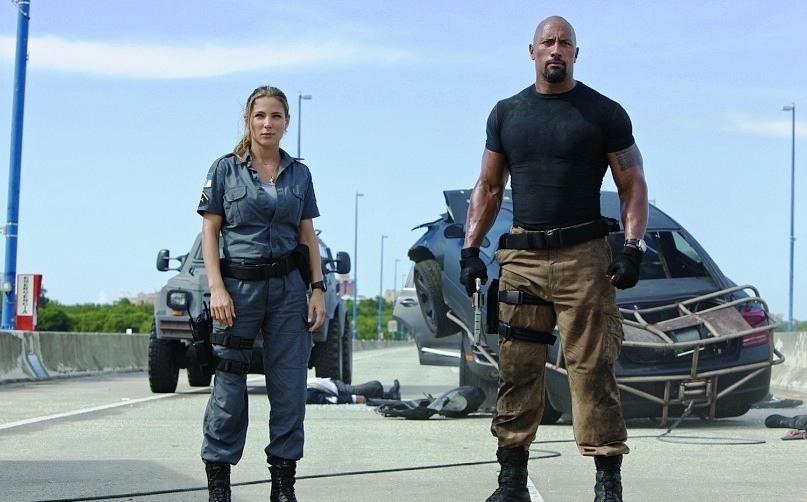 This is formulaic movie making, if you think there is going to be any surprises in plot or style you'd be wrong, but it is slick, it is exciting and it is fun.  Justin Lin directing his third Fast & Furious movie gives his audience what they want and does it effortlessly.  The film is multicultural and multiracial in a way that does not feel contrived and although the women are hot, they are strong and intelligent with their own motivations. There are hot guys, hot Brazilian women and even hotter cars.  There is treachery, a new dimension to the love story between O'Connor and Mia and some fine comedic moments. The love story between Toretto and Gisele does not even reach simmering point however rendering it somewhat pointless,  the chemistry between Diesel and Michelle Rodriguez is definitely missed.  The film climaxes with an ingenious chase scene involving hundreds of police cars and an enormous safe in transit.  Vin Diesel is as always strangely cute for such a big hulk of a man, Paul Walker looks like he can't quite believe they are paying him to do this again and somehow they all feel your friends.
I am no Fast and Furious fan, but there has always been something effortlessly cool about the franchise and it's not just the souped up cars.  The cast and crew's contagious energy spills onto the screen making it difficult not to feel the buzz.  Understandably there are bad reviews about the movies, the acting is a tad cheesy and it will be criticised for being mainstream Hollywood fodder. This is not serious film making, but many audiences don't want serious, they want escapism.  This is escapism that gives you that warm feeling you get when you just hung out with your best friends for a couple of hours (if your friends were hot, muscular and good at stealing cars).  My point is, I love a nice fish salad, but every now and then I want chips and cheese, it's not very nutritious, but damn it tastes good.
Latest posts by Vhairi Slaven
(see all)