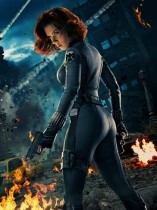 For their latest foray into the world of cinema ,the US TV show Saturday Night Live has produced another send up of Marvel Cinematic Universe. This time the target is Marvel itself as SNL poses the question, Why no superhero film fronted by a woman?
On hand to provide a layer of authenticity is Scarlett Johansson to have a laugh at the character of Black Widow. The trailer for the 'new' film Black Widow: Age of Me sees the former assassin trying to juggle a career in fashion with the demands of her boyfriend Ultron.
Although it is a comedy skit, it does highlight the fact that, to date, neither Marvel or DC have released a female fronted film. The new Wonder Woman movie should hopefully change that.
Editor-in-Chief at Moviescramble. A Fan of all things cinematic with a love of Film Noir, Sci-Fi and Julia Roberts in Notting Hill. He hopes to grow up some day.
Latest posts by John McArthur (see all)