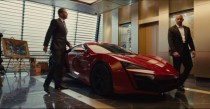 Another nice featurette from the Furious 7 movie focuses on one of the high-end cars featured in the action. The Lykan Hypersport is the very definition of a limited edition car with only seven of them produced and retailing at $3.4 million.
So how do the film makers use this most precious of motor vehicles. Well, they drive it through two sky scrapers in Abu Dhabi in one of the most spectacular set pieces of the film.
Editor-in-Chief at Moviescramble. A Fan of all things cinematic with a love of Film Noir, Sci-Fi and Julia Roberts in Notting Hill. He hopes to grow up some day.
Latest posts by John McArthur (see all)