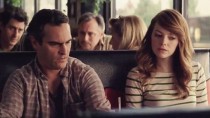 Just released online is the first trailer for the new Woody Allen film, Irrational Man. The new film from the prolific director continues his streak of one new movie per calendar year and follows up the very well received Magic in the Moonlight. 
The film features Joaquin Phoenix as Abe, a tormented philosophy professor who comes out of the other side of an existential crisis to find himself in a relationship with one of his students, played by Emma Stone.
The film is scheduled to premiere out of competition at this year's Cannes Film Festival.
Irrational Man will be released on the 25th of July.
Latest posts by
John McArthur
(see all)