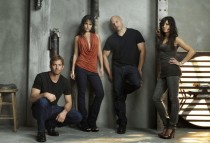 Furious Seven's worldwide opening in April took in no less than $392.3million making it the third biggest international opener of all time behind Harry Potter and the Deathly Hallows: Part 2 and Pirates of the Caribbean: On Stranger Tides.  Production was halted on December 1, 2013 following the untimely death of star Paul Walker who was killed in a car crash on November 30, 2013.  Walker and his friend Roger Rodas were driving back from a charity event for Walker's Reach Out Worldwide charity for victims of Typhoon Haiyan when Rodas drove his 2005 Porsche Carrera GT into a lamppost at 100 miles per hour in a 40 mile per hour zone. No drugs or alcohol was found in either man. Both were killed on impact.
Director James Wan and Universal Executives made the decision to continue with production after speaking to Walker's family and the rest of the cast and crew. Walker's brothers, Caleb and Cody provided body doubles and voice-overs to allow the film to be completed, and CGI was used for some of the final scenes.
According to Universal, 75 per cent of the audience in North America was non-Caucasian. One thing I have always liked about the movies and a factor in its popularity is its racial diversity, there are actors of many different racial backgrounds in the movies, and not a thing is said about it, just as it should be.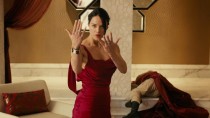 The story starts in a state of relative peace, the crew all having been pardoned in Fast and Furious 6. Brian (Paul Walker) and Mia (Jordana Brewster) are living in relative marital bliss with their son in the LA suburbs. Hetty, previously believed to be dead, but found working for the enemy, and suffering from amnesia has been reunited with Dom although he is struggling to rekindle their relationship and awaken her memories.
Peace is obliterated by Deckard Shaw, (Jason Statham) an ex-Special Forces Assassin too difficult for the Special Forces to handle and too smart for them to find. The brother of Owen Shaw, the international terrorist the gang put in a coma in the previous film, he is intent on revenge. From the opening scenes, Statham's bad guy leaves behind an over the top trail of destruction setting a theatrical tone for Fast Seven, in terms of both action and acting. Statham is as always as cool as a Hendricks and cucumber, but rather small compared to Diesel and Johnson in both stature and character.
Shaw's first stop is Hobbs (Dwayne Johnson aka the Rock) to find out who exactly is on his hit list, and what follows is a wonderfully entertaining fight between Hobbs and Shaw, director James Wan clearly trying out his superhero directing chops (two of his upcoming projects are Malignant Man and Aquaman). Johnson's portrayal of Hobbs is one of the gems of the later Fast and Furious films.  He treats his role with irony and is therefore incredibly funny. Some of his scenes are simply brilliant, like flexing his muscles to bust open his arm cast and unlike much of the script, his lines are executed perfectly, "Woman. I am the cavalry".
The script otherwise is the one thing that lets the movie down. It is terribly clichéd and even when you want to go a long with it, you can't help cringing. It has become somewhat a trademark of the franchise, but I still can't help thinking that with the money available they could have come up with something a little less embarrassing.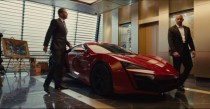 With big budgets come big names, Kurt Russell makes an appearance as Frank Petty aka Mr. Nobody, a government official with the military at his disposal and no qualms about using it, and Djimon Hounsou as Jakande, stars as an African Terrorist. Kurt Russell as Mr. Nobody is not given very much to do except apparently advertise Corona.  The ongoing joke between Mr. Nobody and Dom is pointless and frankly a waste of screen time. Mr. Nobody does however provide support in terms of militia, technology and plot device – "God's Eye" is a high tech computer programme that can track the very cells of a person so that they can be found anywhere (except of course when the age old trick of swapping cars under a tunnel is used) and Mr. Nobody provides the information and backup to steal it from Jakande.
The action is, well, fast and … furious. A whole new concept of sky diving is invented as cars drop from a plane with parachutes. The chase scenes are ingenious and fun, reminiscent of five year old boys playing with their toy cars. It is the choreography of the racing scenes and the fight scenes that make this franchise what it is and this is where Fast Seven does not disappoint.  The editing and action flows effortlessly and relentlessly. There are moments that resemble those few seconds on a rollercoaster where your stomach is left in the air as it drops a great height and the scene where Walker is dangling over the edge of a cliff on a bus is intense, hardly original, but nail biting all the same. There is a truly excellent shot of Hounsou as Jakande standing on the edge of a precipice in the Caucasus Mountains, the landscape spinning around him.
The hacker who invented God's Eye, Ramsay, played by stunning British actress, Nathalie Emmanuel (Game of Thrones, Hollyoaks and Misfits) is rescued by the team and they travel to Abu Dhabi to retrieve God's Eye from a W Motors Lykan Hypersport before Dom flies it through several buildings. The Middle East means beaches, Emmanuel in a Bond like bikini moment and Rodriguez spilling out of a red evening dress while fighting a UFC champion.
The standoffs between Statham and Diesel generally involve revving their engines menacingly before smashing awesome cars head on into each other. Remarkably this never involves much more than a couple of scratches on either man, although the cars don't survive (apparently 230 cars were destroyed during the making of this film). My lasting impression of Diesel was that he was very quiet, and not the tour de force he usually is. It's difficult not to look for a change in him since the death of an actor he classed as his brother.
The team return to their home turf to fight their enemies on the streets of LA, where Dom insightfully tells us that "The thing about street fights … the street always wins", whether it wins or not, it certainly takes a beating.
Of course the film ends on a beach, in harmony, with the sun shining. It's an entertaining film filled with thrilling action and awesome cars, although not quite as good as some of the other movies in the franchise (our writers reviewed all of the Fast and the Furious films here).
The tribute to Walker is however subtle, honest and touching, the fondness his friends and co-stars felt for him evident. The CGI of Walker is a little spooky, but the lasting image of him with twinkling eyes and a cocky smile driving into the horizon is a fitting tribute to a man who by all accounts was a well loved, decent human being.
Latest posts by
Vhairi Slaven
(see all)