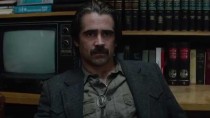 The first trailer for the highly anticipated second season of True Detective has just been released. With an all new cast including Colin Farrell (sporting a suitably dodgy tache), Vince Vaughn, Rachel McAdam and Taylor Kitsch.
With a tagline of 'We get the world we deserve' we are left in no doubt that season 2 will be as twisted and dark as its predecessor. The season is again written by Nic Pizzolatta and will unfold over eight episodes. One of the points of interest is how Vince Vaughn will come across as the lifetime criminal being pursued by the authorities. His recent track record hasn't exactly been spectacular and reports of his casting has been met with some negative comments. I for one am willing to give him the benefit of the doubt as he has proved in the past that he can offer something other than the wise cracking persona he has become known for.
True Detective airs on HBO in the US and SKY Atlantic in the UK. The second season will begin on the 21st of June.
Editor-in-Chief at Moviescramble. A Fan of all things cinematic with a love of Film Noir, Sci-Fi and Julia Roberts in Notting Hill. He hopes to grow up some day.
Latest posts by John McArthur (see all)