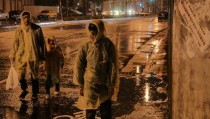 Stray Dogs, the new film from Taiwanese director Ming-Liang Tsai,  is a film that builds a case for the cinematic experience. Certain films are best served by your full attention without the distractions that can be found when viewing at home or on the go.
The film focuses on people who live on the fringes of modern society. We follow the lives of an alcoholic father, his two children and a clerk from a grocery store who may be able to change their lives for the better. The only work the father can get is holding an advertising billboard at a busy traffic intersection. The kids are left to fend for themselves during the day and they wander through the markets and shops in the city. At night they sleep in a shipping container. It is basically a day to day existence for them all.
This is a slow and thought provoking film. A degree of patience and concentration is required to get the most from it. There is minimum dialogue and features only diegetic sounds. This doesn't mean that the film is dull. Once you get into the rhythm of the scenes the film starts to open up.
The scenes are relatively long with continuous shoots from a static position giving the impression that little is going on. Several times we see the father at work. He stands still holding his placard getting battered from the wind, rain and the incessant drone of passing traffic. It is a comment on how, for him, life appears to be passing him by.
The responsibility of raising a family in these circumstances obviously weighs heavily on the father. He engages with his children in a positive and loving way whenever possible. They spend time together over a meal and he ensures they are clothed and clean. The effect of the pressure is held back until he is on his own. There is a poignant scene where he is at work. The camera is close on his face. The elements are conspiring to batter him and he is singing a song. The lyrics of the song are meant to be angry and to draw strength from but as it progresses the father becomes visibly upset as he contemplates his life and circumstances.
Overall, this will not be a film for everyone. It may test your patience at times and can appear to be drawn out. Some of the images from the film stayed with me for some time and I found myself thinking about the film long after the viewing.
Latest posts by
John McArthur
(see all)