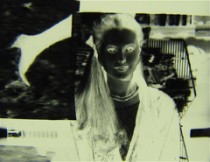 Experimental cinema by its very nature pushes forward the way we view and interact with films. Techniques and ideas developed by artists and pioneers have resulted in some of the aspects of modern cinema that we take for granted. One example of this is the short film Coming Attractions from the Austrian director Peter Tscherkassky.
The twenty-five minute film uses multiple visual and aural techniques to weave a link between the avant-garde and early cinema. Through a series of chapters describing the unfolding events, the director examines the way that images are brought to the screen. Short elements of scenes are repeated to represent the way in which the film making process involves multiple takes in order to achieve the desired effect. The fact that these movements appear identical is not lost on the audience. It is the norm that through repetition and minute, almost unobserved changes, that he film maker achieve the correct mood and feeling for a scene.
The film touches on some of the techniques used to manipulate the medium. The use of multiple layers of film, sever cuts and colourisation change the way the sometime mundane images are altered. The use of the and its effect on the overall mood is explored. In making the sounds clash with the images rather than compliment them we are shown just how important the correct balance is to our enjoyment of the spectacle.
Overall, an interesting and insightful short film on the processes behind the images we see on-screen.
Coming Attractions is currently available on MUBI. A short extract of the film can be viewed below.
Latest posts by
John McArthur
(see all)