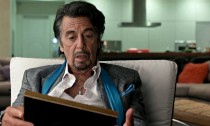 Recently Al Pacino brought his one man show to the U.K. According to reports it was very much like going to a rock concert. When he stepped on stage he received a standing ovation for five minutes, before a single word was uttered. A case of real life providing the perfect training ground for his latest film, Danny Collins.
Collins is a hugely successful singer and entertainer. Now in his seventies he has been a star for over forty years.He is tired of the false lifestyle, the greatest hits set list and the general lack of fun in performing for an aging fan base. For his birthday, his manager and best friend Frank (Christopher Plummer) gives Danny a very special gift. Early in his career, he gave an interview to a magazine where he discussed the problems of keeping it real in terms of his music. John Lennon read this and wrote Danny a letter of support offering help and advice. Unfortunately the letter never got to him and he eventually received it as this present. This knocks him sideways and prompts him to re-assess his life.He quits the tour and heads for New Jersey to write some new material and attempt to connect with his grown son who he has never met.
This is partially based on a true story with the stuff regarding the letter being true and the remainder of the story built upon it. Pacino is perfect in the role of the slightly ridiculous looking old rock star. It is his best screen performance for some time. His slightly over the top, exaggerated mannerisms that we have come to expect are used to an extent which is consistent with the character he is playing here. He shows enough restraint though in some parts of the movie which help to grasp the essence of the real Danny Collins.
Pacino has the look of an aging star down to a tee. The hair, the sun bed tan, and the choice of suits all point towards a slightly absurd man trying to recapture his youth. To finish off the look he has the signature look of wearing a long silk scarf with every outfit which is reminiscent of Vegas era Elvis.
The early potential of his career was never fully realised after his initial self penned efforts were not considered to be a success. A change of course saw him sing other peoples work and become a showman. A bit like Rod Stewart, Neil Diamond or any number of Seventies stars who refuse to stop because the public demand it.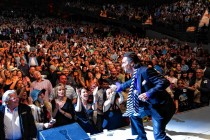 Supporting Pacino is a select group of well known actors. Christopher Plummer as the manager is the perfect foil to the OTT Collins personality. Quiet, easy going and with a wry sense of humour he is portrayed well by the veteran actor. The part could have been lost if an actor of lesser skill took it on. Annette Bening plays the manager of the hotel where Collins retreats to find himself. She is a lonely middle aged woman who is close to being (but not quite) age appropriate for Collins as a love interest. She is given to the idea of a star in her midst but is pragmatic enough to realise there is no future for her with him and is able to gently spurn his advances. This results in more of a friendship than a romance which is a refreshing change in a movie.
Although the story is set primarily on the world of showbiz, there are parallels made with a more normal life. When Collins gets in contact with his son Tom and his family (Bobby Cannavale and Jennifer Garner), we see the compromises and struggles that occur in everyday life. Tom Is not in a great place for a number of reasons and the similarities with Danny's situation are evident.
In keeping with the use of the Lennon letter, a number of his songs are included to good effect in the film. They are all well chosen and reflect eh mood or the theme of the particular scenes they are in. The songs also act as a counterpoint for the cheesy sing-a-long fare that Danny churns out each night on stage.
Overall, a welcome return to form for Al Pacino in a surprisingly entertaining comedy drama. Recommended.
Latest posts by
John McArthur
(see all)