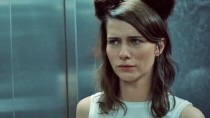 After successful and critically acclaimed screenings at film festivals worldwide, the British film Everyone's Going To Die is getting a UK cinema release. The film stars German actor Nora Tschirner and British late 'newcomer' Rob Knighton (most recently seen in the action film Anti-Social). The film is marks the debut from director Jones who also wrote the story.
Melanie is a lost soul, drifting through life in a quiet seaside town. Into her life comes Ray who is back in his old hometown to carry out a bit of dodgy business. they form a connection that could inform their future if they can let go of the past.  Although it comes with the premise of a standard romantic drama there appears to be something a bit different going on.
Everyone's Going to Die is released on the 26th of June.
Editor-in-Chief at Moviescramble. A Fan of all things cinematic with a love of Film Noir, Sci-Fi and Julia Roberts in Notting Hill. He hopes to grow up some day.
Latest posts by John McArthur (see all)