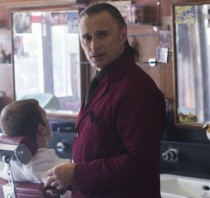 Opening the 2015 Edinburgh international film festival is the world premiere of The Legend Of Barney Thomson. It marks the directorial debut from acclaimed Scottish actor Robert Carlyle. In addition to helming the film, Carlyle stars as the anti hero Thomson and is joined by a star studded support cast including Emma Thompson, Ray Winstone, Tom Courtney and Ashley Jensen.
The Film is an adaptation of the best selling novel from author Douglas Lindsay. The film centres on Barney, a hapless barber who lacks charm and chat and is shunned by his fellow hair cutters. His life takes a turn for the bizarre when he stumbles into the pastime of serial murder and has two sets of Police on his tail. In his panic he turns to the one person who can help him, his mother Cemolina ( Emma Thompson).
The film will get a full release on the 24th of July.
Latest posts by
John McArthur
(see all)