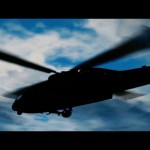 Technology is now so readily available that the majority of people have the tools required to make a film. It's becoming more difficult for amateur filmmakers to stand out and 20 year old Ash Wilding will use the resources available to ensure his film is noticed. "It's very not very often we see feature films being made out of popular computer games," Ash says of his upcoming 2018: The Virus. "For a film without a budget, the effects look stunning."
Ash may have no budget but he has the necessary skills. Studying at both college and home, Ash learned how to use video editing software as well as Photoshop; invaluable tools that would enable him to make his film. We caught up with the native of Shropshire, England to get some insight into 2018: The Virus and what the director has in store for the future.

How did you come up with the idea for 2018: The Virus?
Me and a friend (Matthew Campbell) couldn't think of anything to do as money was tight. As a last minute decision, we both went back to mine and played Grand Theft Auto IV on the PC. At the time, I had a brand new zombie apocalypse mod installed on my system. The mod turns Liberty City into complete chaos, traffic crashing into each other, people going berserk with weaponry, reoccurring explosions and fighting off zombie crowds become impossible. After a while of playing, we turned to each other and thought the exact same thing. Our knowledge of film kicked into gear and then non-stop ideas came flooding into our heads.
As the days went by, I sat and watched many existing zombie films so I could get a greater understanding of the
genre and this helped us develop our own plot. I had even studied the zombie mod continuously and learnt how it all works. Within a week, I had complete control of everything and tested out our written ideas. I first started by creating a few tester videos using the in-game 'Video Editor', applying different filters and deciding on camera angles. After looking back at the final videos and seeing how effective they were, 2018: The Virus came to life.
You've chosen an interesting way to produce your film. What made you go down that road and what inspired you to do so?
It was a more of a challenge than anything else. When it comes to graphical filmmaking, everything about it had to be precise or it wouldn't look or work right.
During the making of the film, it had undergone 10 complete reinstalls due to continuous glitches and other reoccurring issues. At the time, we had no money to put into making a real-life zombie film, so this was our cheapest alternative and so far our best. During the making of the film, I put my Photoshop skills to the test and created a few extra special effects. With the graphical enhancements on top it gave 2018: The Virus a lot more life and a more realistic atmosphere.
What specific issues did you encounter that were unique to the film?
A small number of modifications would conflict with each other from time to time and render the game unbootable unless manually removed. In the end, they were removed and I had to think of other workarounds. Despite the conflicting and reoccurring glitching, it caused no real time-consuming problems.
Will your next film be made in the same way or will you go down the more traditional live action route?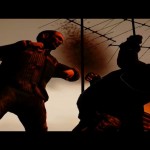 From what I've achieved with 2018: The Virus  I have another computer-graphics project in mind. Back in 2013, I created a film called Underworld and this was when I was first starting out. By today's standards, it's not very good in terms of story or graphics. Now with more than 4 years' experience behind me, I am looking at remaking Underworld. This time with a more convincing story, a different timeline, better built characters, improved visuals and a much better atmospheric setting. The quality of my films will only improve and will have my audience on the edge of their seats wanting more. With the recent recognition (from the BBC, Shropshire Star and you guys at Moviescramble) it made us feel like we've really achieved something. Although, I do have this reoccurring thought for a real-life movie and it's looking more and more promising. Unfortunately I can't say too much on that. Yet.
20018: The Virus will be released this July/August.
Let us know your thoughts, is this something you'd be interested in seeing? Leave a comment.  
Latest posts by Thomas Simpson
(see all)