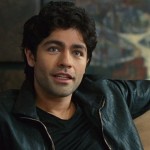 Some see the celebrating of success as an issue. They want to see people struggle for their reward to enhance the payoff. The TV series Entourage thrust viewers into a world where lead character Vinnie Chase (Adrian Grenier) was already a huge movie star, his humble upbringings alluded to in conversation. Followers of the show spent 8 seasons on the journey with Chase, E (Kevin Connolly), Drama (Kevin Dillon) and Turtle (Jerry Ferrara); as such they will be well acquainted with the gang. If you're approaching the film with fresh eyes, you're thrown in at the deep end, expected to just accept this world for what it is without any development to how we got here.
Chase's former agent Ari Gold (Jeremy Piven) is now head of a major studio. He has a project lined up for Vince but the actor has other ideas. He also wants to direct. Jump forward 8 months, Vince has directed and starred in Hyde. It should be ready for viewing but he insists he need more money despite already being over budget. Ari's stress levels are tested by the film's financier Larsen McCredle (Billy Bob Thornton), whose idiot son (Haley Joel Osment) wants more involvement than is required of him.
Produced by HBO, the series was known for the sex and cursing that's become synonymous with the broadcaster. Although the film doesn't shy away from these features, it certainly feels watered down. As to be expected, Piven has the best lines and reminds us why we all should miss Ari Gold. His lines will provide the most laughs for fans, however those same fans will be begging for Piven to be let off the leash.
The most vicious critics have lambasted the main cast for being hateful, but it's Osment that deserves the wrath of the viewer, albeit for the rights reasons. He's snivelling, whiny, odious and quite brilliant. His comeuppance may seem anti-climatic but this is Hollywood, not the Wild West.
At its best, Entourage reminds fans of why the show was so great. Unfortunately its weaknesses elicits the same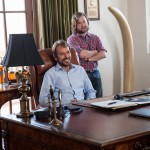 nostalgia. Creator Doug Ellin may be most deserving of the director credit on paper, and although he directed a few episodes for television, his previous feature was 1998's Kissing the Fool. Ellin doesn't necessarily do anything wrong it just lacks any cinematic presence. Entourage may have worked best as an HBO TV movie, allowing Ellin to preach to the choir rather than look for a new audience. Behind the smugness and casual sexism, Entourage is about loyalty and friendship. Ellin does his best to highlight this in his film, however it may not be enough for audiences looking for a bit more substance.
Despite our editor enjoying it without having ever seen a single episode, I fail to see the movie winning over many new fans. For the diehards though, it provides the ending that the show deserved.
Latest posts by Thomas Simpson
(see all)