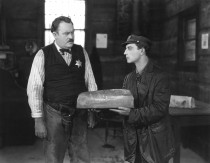 A brand new 4K restoration of the Buster Keaton classic Steamboat Bill, Jr is coming to cinemas. The silent comedy classic will be accompanied by a specially commissioned score from Carl Davis. The film is a welcome addition to restored Keaton films already available.
The seventy minute feature tells the tale of a two boat town called Muddy waters. The owners of the two boats in question are always trying to put each other out of business. One of the men, Steamboat Bill, thinks he has it made when he hears that his estranged son (Buster Keaton) is returning to help with the business. Of course Bill Jr is not quite what Dad expected. He might just sink his father's business for good.
The film is a great example of Keaton at the height of his creative power and commercial peak. There are some quite breathtaking stunts in the film that are all the more impressive considering the film was made in 1928.
Steamboat Bill, Jr will be released on the 18th of September.
Latest posts by John McArthur
(see all)