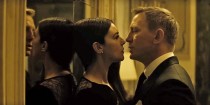 Just in case you were starting to forget about it, the lovely people at EON productions have released a second trailer for the 24th James Bond film SPECTRE. Unlike the previous teasers this has a little more substance and dialogue to it, giving the audience a bit more of the story.
As with all Bond films it takes in locations from all over the world. This time including Mexico City, Rome and The Alps. Bond has infiltrated a meeting of the mysterious SPECTRE and learns of a threat that has implications for the world and also for him personally. He has to look to his past to uncover the link between himself and the head of SPECTRE.
Daniel Craig returns as Bond along with regulars Ralph Fiennes, Naomie Harris and Ben Wishaw. Adding to the cast this time are Monica Bellucci and Christoph Waltz as the main bad guy.
SPECTRE is in cinemas on the 26th of October.
Latest posts by
John McArthur
(see all)