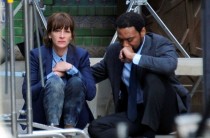 The trend for Hollywood remaking successful non English language films for people who cant read while watching a screen continues with the forthcoming release of Secrets In Their Eyes.  Taking its lead from The Secrets In Their Eyes, the 2010 foreign Oscar winner from director Juan José Campanella, the film sees an FBI team who are investigating the murder of the daughter of an investigator. After the lead suspect is found to be protected by the Government as part of another investigation the case falls apart. The suspect then disappears leading to a thirteen year investigation to achieve some form of closure and justice.
The film stars Julia Roberts, Nicole Kidman and Chiwetel Ejiofor. We can only hope that the film stays true to the mood and tension of the original, but as with many remakes it will probably be a watered down effort.
Secrets In Their Eyes is released in the US on the 20th of November but doesn't hit the UK screens until the 4th of March 2016.
Latest posts by
John McArthur
(see all)