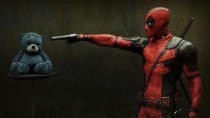 After it was announced that the Deadpool movie was not going to be following the current trend for superhero movies and would be a lot more adult in content and subject matter, interest in the first trailer shot up. This is something a little different where a character is not toned down for the maximum box office return and it makes a welcome change.
The trailer more than lives up to its pre-release buzz including the cheeky one minute teaser released only a day before. Ryan Reynolds stars as the Marvel superhero whose catch phrase is 'with great power comes great irresponsibility'. Here's hoping that Fox gets this one right.
Deadpool is released on the 12th of February 2016
Editor-in-Chief at Moviescramble. A Fan of all things cinematic with a love of Film Noir, Sci-Fi and Julia Roberts in Notting Hill. He hopes to grow up some day.
Latest posts by John McArthur (see all)