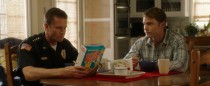 Courteney Cox has come a long way since her days as Monica in the mega successful TV comedy Friends. She has taken charge of her career in a relatively quiet way with acting, producing and director credits, mostly from television, being added to her CV. Her latest film as a director is the comedy / drama, Just Before I Go.
Ted (Sean William Scott) is a guy who is done with life. He hated growing up in a small town where he was bullied and had an abusive teacher at school. His father, who he adored, died when he was young and he felt lost without him. As a adult he played it safe in a dull job and quiet relationship until his girlfriend cheated on him. At that point, he realised he was worth nothing and he decided to end it all. To do it cleanly he comes back to his home town to settle a few scores with those who made him miserable. His brother is still there as sheriff and what Ted finds is a group of people who have much the same, if not more problems as him.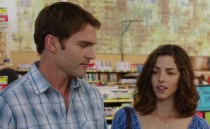 The film is a matter of expectations. Ted wishes to settle some scores. The teacher he was verbally abused by each day is now dying in an old folks home. She has little or no connection with the world and when Ted starts to tell her what he thinks. It is a wasted effort. It seems almost cruel. When he confronts the school bully he is similarly surprised. This isn't the same guy that made his life a misery. What becomes apparent is that what happened to him isn't totally black and white. There are reasons behind everyone's actions good or bad.
This is a very funny film. The main character of Ted is the straight guy that everyone else reacts to and the rest of the ensemble cast provide the laughs. He has to deal with his brother Lucky (Garret Dillahunt) who is a bit of a nutter. He is horrible to his wife and kid and has trouble showing emotion. In reaction, his wife Kathleen (Kate Walsh) spits in his coffee and has disturbing (for everyone) sleep masturbation sessions.
There is a vein of particularly crude comedy that runs through the film. Certain words such as retard are bandied about by characters. This is not a message about the level of the humour. It is more about the characters themselves. With every reference to this and to homosexuals there is a story line that goes into the subject in a rational and balanced way.
Overall, a surprisingly funny and crude comedy.
Editor-in-Chief at Moviescramble. A Fan of all things cinematic with a love of Film Noir, Sci-Fi and Julia Roberts in Notting Hill. He hopes to grow up some day.
Latest posts by John McArthur (see all)