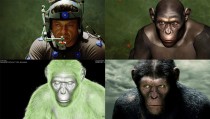 Those nice people at the RocketJump film school have just released the latest in a series of video essays on the working of modern cinema. The subject this time is the misconception that practical effects are far better than computer generated effects in movies.
In the seven minute YouTube clip they make a compelling argument for the use of CGI which boils down to the fact that if the movie is good then no one complains about what effects are used. It's only if the movie sucks that problems are highlighted.
Have a look at the whole essay below. If you like what you see check out the other content on their YouTube channel.
Editor-in-Chief at Moviescramble. A Fan of all things cinematic with a love of Film Noir, Sci-Fi and Julia Roberts in Notting Hill. He hopes to grow up some day.
Latest posts by John McArthur (see all)